Freckled Italian
has been featured multiple times as a top fashion, lifestyle, health, and beauty blog on Hellocotton and was chosen as the Editor's Pick of the Day on
Bloggers.com
in March of 2012.
Freckled Italian
has been included in Jigsaw London's
Pieces of the Puzzle
program and was named
Blogger of the Moment
in October 2012.
Current stats:
1,600+ GFC readers
1,200 on Bloglovin'
1,600+ Twitter followers
Avg. 2,500 pageviews per day
Freckled Italian
is also available for sponsored posts, reviews, and giveaways.
I only work with brands that I love and that I feel my readers will appreciate.
Please email for more information about those services.
I'd love to hear from you if you have questions:
|
CONTACT
|
PS Want to grab a Freckled Italian button?
300x120: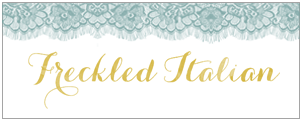 180x160: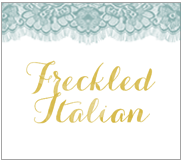 200 X 130: